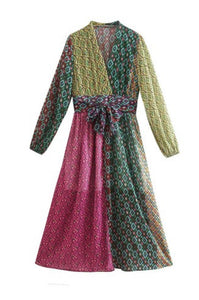 Introducing our newest addition to the collection: a stunning multi-colored and multi-patterned dress with a convenient side zipper. This dress is perfect for those who love to make a bold fashion statement with their clothing choices.
Featuring a variety of vibrant colors and patterns, this dress is truly one-of-a-kind. The side zipper adds a touch of convenience while maintaining the dress's sleek and stylish appearance.

S: Bust 32 inches, Waist 26 inches, Hips 32 inches, Length 46 1/2 inches.
M: Bust 36 inches, Waist 30 inches, Hips 36 inches, Length 47 inches.
L: Bust 38 inches, Waist 32 inches, Hips 38 inches, Length 49 inches.
Fabric Content: Polyester 100%