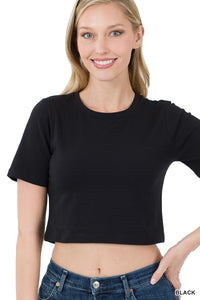 Looking for the perfect layering top to add to your wardrobe? Our Black Cropped Short Sleeve Layering Top is the perfect choice! With its simple yet stylish design, this top is a versatile piece that can be dressed up or down to suit any occasion.

S: Bust 32 inches, Waist 30 inches, Length 15 inches.
M: Bust 35 inches, Waist 31 inches, Length 15 1/2 inches.
L: Bust 36 inches, Waist 34 inches, Length 16 inches.
XL: Bust 37 inches, Waist 35 inches, Length 16 1/2 inches.
Fabric Content: Cotton 95%, Spandex 5%