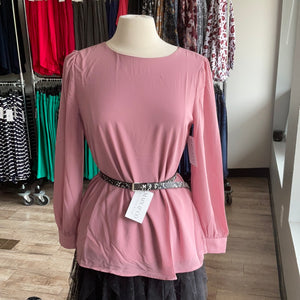 Looking for a delicate and feminine blouse to add to your wardrobe? Check out our Light Rose Woven Long Sleeve Chiffon Blouse! This blouse features a beautiful light pink color that is perfect for any season. This blouse is lightweight and breathable, making it comfortable to wear all day long. The woven fabric adds a subtle texture to the blouse, giving it a unique and stylish look.
The long sleeves of the blouse provide coverage and protection from the sun, while the chiffon material adds a touch of elegance to your outfit. Perfect for dressing up or down, this blouse is a versatile piece that can be worn for any occasion.

M: Bust 38 1/2 inches, Waist 42 inches, Length 27 1/2 inches.
L: Bust 40 1/2 inches, Waist 44 inches, Length 27 1/2 inches.
XL: Bust 42 1/2 inches, Waist 44 1/2 inches, Length 28 inches.
Fabric Content: Polyester 100%