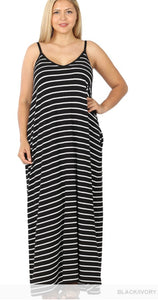 Introducing our stylish Black and Ivory Striped Cami Maxi Dress, the perfect addition to your summer wardrobe! This dress features a flattering cami-style top and a long, flowing maxi skirt, making it both comfortable and fashionable.
The black and ivory striped design gives this dress a classic, timeless look that will never go out of style. It's perfect for a variety of occasions, from a day out with friends to a special event.

1X; Bust 42 inches, Waist 48 inches, Hips 60 inches, Length 57 inches.
2X: Bust 44 inches, Waist 50 1/2 inches, Hips 60 1/2 inches, Length 57 inches.
3X: Bust 48 inches, Waist 54 inches, Hips 64 inches, Length 57 inches.
Fabric Content: Polyester 90%, Spandex 10%